Mountain Village is located in a virgin nature at the north foot of Klekovaca Mountain. It is an amazing mature forest shaped by the forces of water. It is a great challenge to develop any design in an area of high environmental value. Our attitude towards the site is above all respectful. On the one hand we have to deal with the architecture requirements in terms of density and functionality and on the other hand we have to integrate and hybridize the design with the natural environment.
Mature forest is a really complex environment in permanent change and evolution. Apart from the seasonal changes, it can change from one day to another. Our first objective is to make readable the natural environment in order to focus a respectul design.
Topography, orientation and sun studies.
Mountain Village is located in a plateau at the north foot of Klekovaca Mountain at 1.200 meters of altitude. Compare to its surroundings, it has a slight slope while it is in the middle of a depression. This topographical situation together with the big amount of sinkholes in the area builds a complex terrain. The area has been studied in order to clarify its different orientation. The plateau is surrounded by two main slopes oriented towards northeast. Main objective is to take adavantage of better orientations in terms of sun exposure and mountain views.
On the other hand, it is neccesary to take account of Klekovaca Mountain big shadow and when it will darken the area in winter and summer.
Adaptive design for ecosystem integration.
Mountain Village environment is highly complex. The amount of factors and relationships among them are huge. The environment is under continuous evolution and transformation and probably present project is one of the biggest changes that will undergo. So, it is a key factor to understand how the project will adapt to it.
Our position towards environment is specially respectful. Once that we have made readable Mountain Village's Ecosystem we proceed to explain our approach based upon adaptation and evolution.
First step was to identify potential areas around sinkholes for housing according to the best orientations, the waterscape and to respect as much as possible the mature forest.
Potential areas for housing.
Potential areas for housing are identified according to slope, orientation, proximity to sinkholes and mature forest.
Mainly we have established two types: sinkholes housing (green colour) and linear housing. While the first ones are located around sinkholes, the second ones are structured along a row.
Mobility system is structured over three types of transportation: people moving (skiers, bikes, pedestrians), moving people (gondola lift, chair lift and conveyors belt) and moving machines (cars and buses). Connected to the main ski slopes, it has been established two circular ski slopes around housing in order to allow all residents to arrive skiing to their houses. There is one on the west side and two on the east side. Each group housing have a common skiing plateau.
As the exterior circular ski slopes give access to skiers, an interior circular road gives access to vehicles. Thus, all houses have a connection from one side to the ski slopes and from the other side to the roads. On west housing, it is required a conveyor belt to allow skiers to go back to the center and connect to the ski slopes.
All mobility systems cross in the center. There are some underground parking areas according to the future construction phases of the central plaza, connected to main roads. From underground parking, it is possible to connect directly to the ski slopes and to the gondola lifts. The center becomes a central plaza with skiing plateaus on its sides. The circular central plaza is surrounded by hotels, market, commercial facilities and administrative building.
Main roads surrounding Mountain Village Area should not cross with ski slopes through the construction of bridges for the ski slopes and tunnels for the roads.
One of the most recognizable natural systems of the area are the sinkholes. As it was pointed out before sinkholes are not just holes in the ground, yet they are a mirrors of how water interacts in the ecosystem. Water has shaped not only the ground surface but also the underground level. Sinkholes are the link between water and underground soil. They show its deformation and collapsed due to the chemical reaction of water with gypsum.
Sinkhole Houses Typology.
Housing typology around sinkholes has been adapted to the different variations of sinkholes in terms of size, orientation, depth and slope. Thus, the number of houses around a sinkhole depend on its size, as well as the orientation depends on its locations and surrounding slopes.
There is a radial relation between the sinkhole and our design. Housing follows sinkhole radial structure in order to protect the landscape. For these reason, all houses are elevated above the ground to allow the water to flow naturally and to let the landscape untouched.
Sinkholes houses are divided in two parts according to public areas (living and dinning rooms and kitchen) and private areas (bedrooms and bathrooms). The position of these two parts adapts to the radial structure of sinkholes. From this point of view, each house is slightly different in order to be respectful with the environment. It has been defined a second typology to complement previous one when orientation and number of houses around sinkholes required it.

Slope houses are located on the north part of the three clusters developed in Mountain Village area: one on the west side and two on the east side. Slope houses form a linear structure following different platform levels. Accessibility to slope houses is always made from its south side, while from their north side it is possible to arrive skiing.
Slope housing as well as sinkhole houses are designed as a flexible system able to adapt to future requirement. In this regard, it is possible to growth from two bedrooms to four bedrooms together with some built-up area extension. There is a simple plot regulation where the east side of the houses should be attached to its boundary limit.
Slope houses follows similar Sinkholes typology based on two parts according to public areas and private areas. In this case, it is possible to build a third part to expand the house. However both typologies, Sinkholes and Slope, are designed as a flexible system able to growth and adapt to future requirements.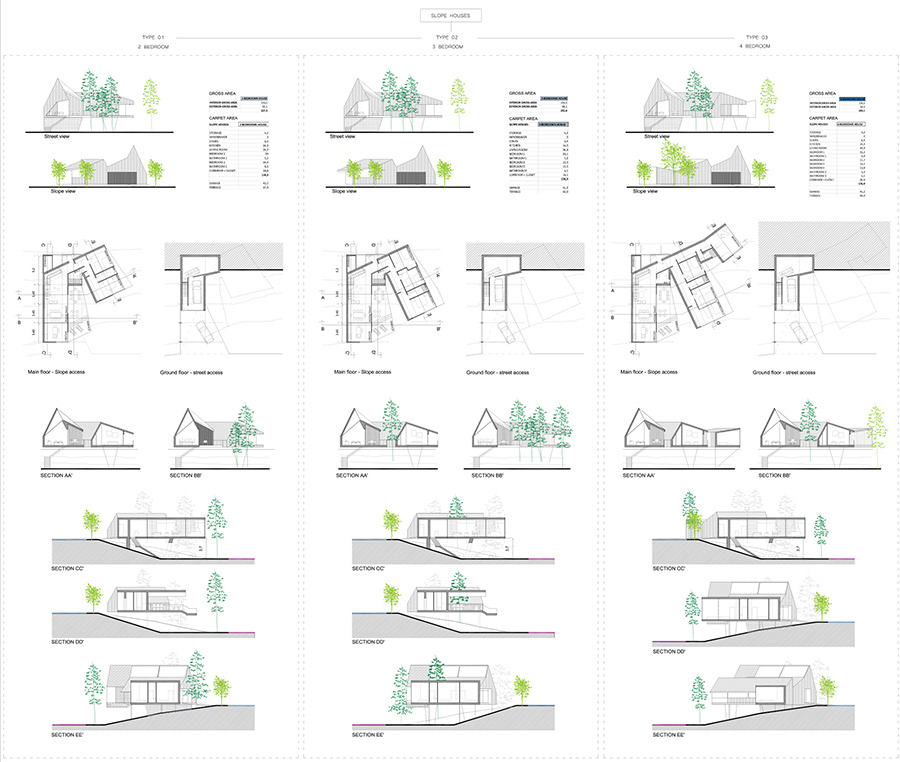 Evolutionary landscape.
Surrounding landscape is under continuous change and evolution. Aside from the seasonal changes, the sinkholes attracts not only water but many materials drawn by it. Housing around sinkholes will experience everyday how the landscape change and like a riverside what are you going to find next morning.
Landscape has been studied and designed in terms of seasonal changes. It is a feedback process of how architecture can adapt to environmental changes and how landscape evolution affects architecture and people life.
Landscape has been structured in several areas:
- Common areas landscape located in the interior of inner roads.
- Sinkholes landscape that remains untouched yet with a slight intervention to allow access.
- Land art actions in existing Mountain Village mature forest.
- Land art actions in existing Mountain Village mature forest. A pathway connects different actions to enjoy and learn from the amazing environment of Klekovaca Mountain.
- Housing plateaus located around housing.
- Central plaza landscape. Pathway.
Mountain Village Central Plaza.
Central Plaza is the heart of Mountain Village Area. It is a vibrant place full of activity. On the one hand, it works as an  interchange of mobility systems and on the other hand it accommodates other programs like market, hotels, skiing
facilities, administrative building and public squares.
Central Plaza connects underground parking for daily visitors and hotel guests directly to skiing slopes and gondola and
chair lifts. Central Plaza is divided in four different squares qualified in a different way according to the surrounding programs and dimension. Each small and confortable square is organized around a market of two levels. Upper level allows ski slope crossing without interfering skiers. Hotels access is made from these squares.
Central Plaza has been designed to be built in several phases. Each one of the phases is an autonomous structure without
the need of any future construction. This means that any phase could work as a permanent structure due o its configuration, accesibility and programs. However if it is required, it will be expanded in the future.
Sinkholes inside the area have been preserved, becoming part of Central Plaza and as a natural area inside the public  squares.
Partners in charge:
 Manuel Pérez Romero y Jaime Tarazona.
Team: 
Brianda Campoamor Pinilla, Sara Cezón Nieto, Mireya Escobedo Pastrana, Víctor Jiménez Jiménez.
Location:
 Klekovaca, Bosnia&Herzegovina.