The proposal for the future fairgrounds in La Rinconadamust address to two completely different temporary situations: the few intensedays of the fair and the park that it is the rest of the year.

The objective of our proposal is tomake the two moments as compatible as possible.

The free space occupied by the stallsand the Infierno Street can generate a distressing bare area when there is nofair.

Our proposal aims to ensure thatthis necessary empty space, which allows the easy installation of the stallsduring the fair, does not make the park into an inhospitable space.

To achieve this, the organization ofthe stalls within the park seeks to avoid big leveled areas and to answer to anorganic system rather than a tectonic system.

That is, a park where it is possibleto set up the stalls but avoiding as much as possible big empty spaces.
The stalls are located along acontinuous line to attain the largest perimeter possible to generate extraspaces that break the continuous emptiness destined for stalls.

Our proposal is not based on urbanplanning criteria (as the Seville Fair is), but is ruled by laws closer to theorganic in nature.

A ribbon that curls and generatespark spaces in its interior, on the borders, as well as along the ribbonitself.
The future fair ground is formed bydifferent layers that configure the multipurpose and flexible park capable ofaccommodating all type of events, from the most intense fair to normal parkactivities:

THE FAIR, THE LINEAR PARK AND THEGARDEN OF HILLS

THE FAIR / THE STANDS
The organic ribbon where the standsare located twists to generate interior spaces and exterior as well. Spacesthat are more sheltered or more open.

A whole world of variable situationswhich bestow spatial richness to the park layout.

The surface destined to the standsalong this ribbon is greater than that required. This fact allows theappearance of intermediate spaces between the stands, which are again invadedby the linear park.

Access routes to the park, as wellas the fairground are achieved from the perimeter of the ribbon in specificpoints connected to the car parking and the general urban situation.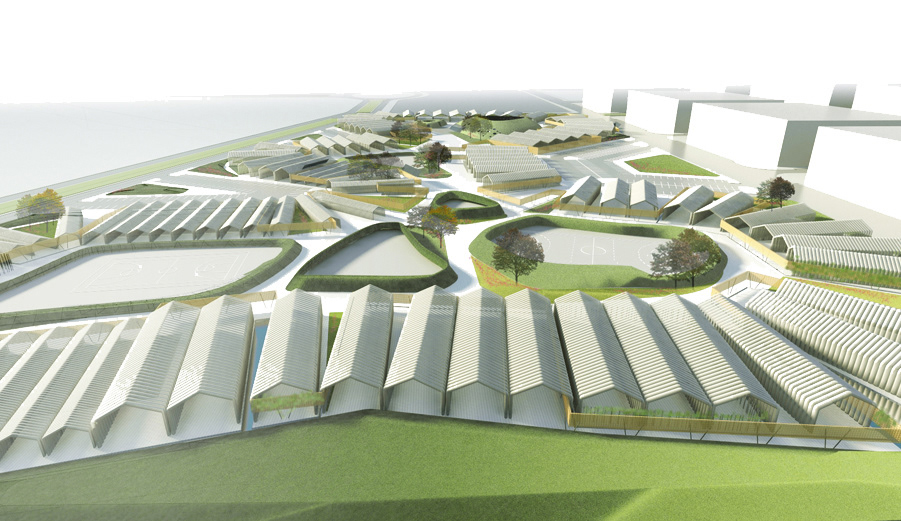 Design Team:
Félix Toledo Lerín, Birga Wingenfeld, Alegría Zorilla Miras.

Infography:
Jaime López.