Two-phase International Competition Finalist
(with invited teams: Toyo Ito and Steven Holl)
The site area, mainly surrounded by residential buildings, is under major transformation. New programs and activities will be exponentially added to the mono-functional housing structure. 
The closeness of Changdong Station together with the future Seoul Arena Cultural Complex will generate a strong flow of people and activities. Future cultural programs in the area will increase and support a vibrant urban space.
The future Changdong-Sanggye Start-up and Culture Industry Complex is designed as a new pedestrian flow linked to the future pedestrian network. An elevated walkway, a Street in the Sky as A&P Smithson used to say, connects directly Changdong Station with Seoul Arena and surrounded cultural activities. For this reason, the elevated walkway keeps the station level until the Arena, becoming an urban infrastructure for area regeneration. 
​​​​​​​
Urban infrastructure is a wider concept encompassing not only a mobility system but overall a support for activities and life. In this regard, the street in the sky is a high biodiversity urban space with great potential for future evolution and transformation. We propose to stretch it vertically in order to enhance neighborhood identity, knowledge transfer and shared facilities.
We understand the city as a stratified and multi-scalar system that can be managed, synchronized and adapted by its citizens. Our approach is focus on five vectors: urban complexity, urban biodiversity, time evolution, sustainable mobility and the balance between private, shared and public spaces.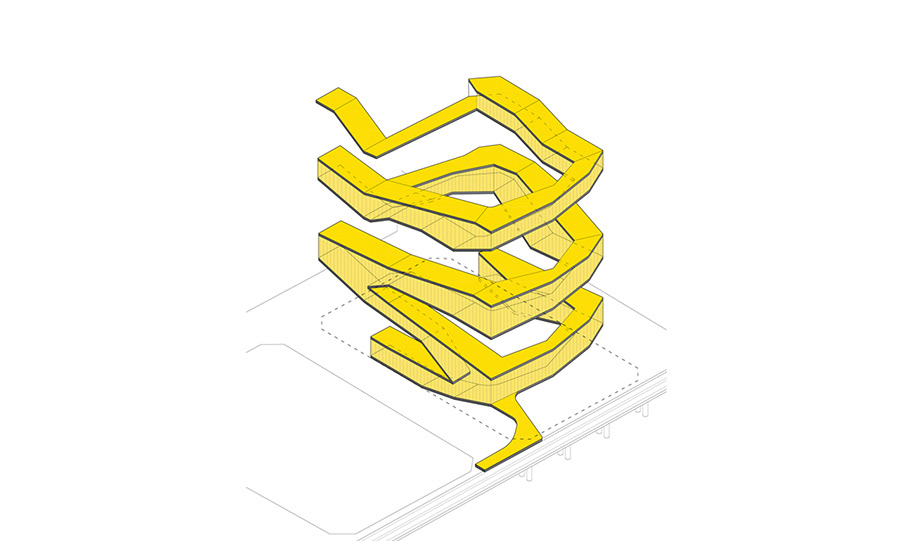 The street in the sky is supported and connected to five towers accommodating housing, offices and cultural activities. Rather than isolating the towers inside the plot, as traditional relation between towers and podium, they are aligned to surrounded streets in order to enhance block formation and urban integration. We like the ambiguity between fragmentation and compactness. Although the five towers are autonomous, they are linked by the street in the sky. They build a unique façade while keeping their fragmentation. Although it is possible to identify each one of the towers and the elevated walkway as autonomous parts, there is no doubt that they build a unique system.
Towers and elevated walkway have complementary programs and activities. While the first one accommodates mainly housing and offices and a small part of cultural program, the street in the sky is designed for community and shared activities such as kindergarten, gymnasium, playgrounds, laundry, cafeteria, meeting rooms, exhibition halls for knowledge transfer, music start-up club, gardens, greenhouses… Tower's inner programs are enhanced by the complementary activities located in the elevated walkway. Basically, one needs the other.
The street in the sky is an opportunity to enhance industrial ecology and knowledge transfer. In this regard meeting rooms, exhibition halls and cafeterias located inside the street in the sky are network spaces for content producers and industry employee. Thereby, the street in the sky is transformed into a campus in the sky.  Big ideas do not need big spaces. It is well known that best ideas or initiatives arise from conversations drinking a coffee, doing sports or just listening to music. Although the campus in the sky is a big scale infrastructure is formed by small scale pavilions in order to create a more comfortable urban structure to enhance knowledge transfer and shared activities.
Furthermore, the campus in the sky is structured through an inner landscape and continuous walkable space, from which all programs and activities are connected. The landscape is gradually transformed while climbing the campus in the sky. The vegetation changes according to the different types of landscapes that vertically grow in Korean mountains. From the plains to the top of the mountains the landscape changes progressively bio-mimicking crop terraces, bamboo forest, maple forest, cherry tree garden, birch forest and conifer forest. Those that require specific weather conditions will be planted inside greenhouses, while other will simply grow in exterior spaces.
​​​​​​​
In order to enhance identity and flexibility to future developers and owners, the system is fractally fragmented according to programmatic scales and clusters. Although the Start-up and Culture complex is a big scale project we do not want to lose the feeling of identity of its users. Each housing unit is part of a small cluster of houses, built with prefabricated CLT (Cross Laminated Timber) structures supported over concrete slabs. These collective housing groups range from two story up to five story floors This means clusters ranging from 20 to 80 homes. In turn, the campus in the sky fragments the five towers of 33 stories in smaller buildings ranging from 4 to 9 floors. Next scale level corresponds to each one of the towers and following level is the whole building. Likewise, the proposal is part of a bigger structure of pedestrian connections from Changdong Station to Seoul Arena. Ultimately our proposal is a multi-scalar system based on identity, knowledge transfer and time evolution.
​​​​​​​
Office program works in a similar way. Concrete slabs support different level of offices built with small metallic columns and prefabricated wood-based loadbearing stressed skin slabs due to bigger spans. These groups of offices allow flexibility to future developers and enhance industrial ecology and knowledge transfer. In turn, cluster of offices are located in the smaller buildings fragmented by the campus in the sky. Basically a start-up company can be accommodated in one or various levels of wood-based slabs, or maybe occupying the whole timber structure, one or several building between the elevated walkway, or perhaps the whole tower. Due to the flexibility given by the campus in the sky, one company can occupy as well different levels of different towers.
Mainly cultural program is located in three stories underground, organized around two central patios with crop terraces. Although it loses its name, the campus in the sky goes down to the cultural program and around the two courtyards. A small part of cultural program is located in tower 1.
Finally, timber structures between concrete slabs allow flexibility due to its technical features such as drywall construction, lightweight and prefabricated system and sustainable material. In this regard, the technical system enhances industrial ecology and future transformation.
On the one hand, technical systems are designed for enhancing flexibility, future transformation and sustainability, and on the other hand for simplifying the construction process. Our aim is to work as much as possible with drywall and prefabricated construction systems together with sustainable materials. Furthermore it has been set passive solutions in synergy with sky greenhouses in order to improve energy efficiency.
Structurally each tower has a concrete core for vertical accessibility and a certain number of thick concrete slabs for supporting from 2 to 5 levels of wooden structures. These concrete slabs are designed as plots in the sky whereby it is possible to develop autonomous and independent housing or office clusters. For these reason the space between the campus in the sky and plots in the sky is used for accommodating all facilities required for both of them. Campus in the sky is formed by a metallic truss structure that increases structural rigidity for earthquakes and contributes to tower rigidity from horizonal loads. Although each tower has a different shape to adapt and support the Campus in the Sky, they share an identical concrete core in order to simplify the construction process and cost. Due to the flexibility provided by the plot in the sky, offices and housing program can be easily designed and built.
As wood is one of the most sustainable materials we proposed to use lightweight prefabricated timber structures for interior development. Due to the difference of span distance between housing and offices, apartments are designed with CLT walls and slabs, while offices with prefabricated wood-based loadbearing stressed skin slabs and metallic columns. On the other hand, concrete slabs are supported on one side by the vertical core and on the other side by mix columns of steel and concrete located in tower facades. Campus in the sky is a metallic truss structure supported between towers. As well as offices, campus interior programs are built with prefabricated wood-based loadbearing stressed skin slabs and metallic columns.
Wooden clusters of offices and apartments are built over equipped slabs and enclosed in the interior of a sky greenhouse formed by adjustable glass slats. In order to improve energy efficiency glass slats will be adjusted to gain sun radiation (winter) or to reduce sun radiation generating shadow (summer). Depending upon façade orientation, slats arrangement has different positions. Inner gardens will contribute to adiabatic conditioning of common spaces. To achieve sustainable and resilient development in front of water stress, we consider innovative concepts for the sustainable management of the water cycle; based on low water demand and diversification of water sources to replace a portion of tap water usual demand.
Each tower has a concrete core for vertical accessibility, with 2 independent stairs and two groups of 3 elevators. This means that the core in turn can be divided in two independent cores of three elevators and one stair. Therefore offices and apartments can share the same tower without crossing. Additionally, for avoiding crossing programs such as cultural and apartments, only in underground floors , for cultural program accesibility there are groups of two elevators and one more independent stair. This arrangement of inner core provides flexibility for future development. 
Empty spaces in both sides of the core could be occupied by additional stairs in case of need. Campus in the sky is a walkable space with most of slopes less than 8%, while for those areas with bigger slopes it has been set up stairs and escalators. On the other hand, all interior levels of campus in the sky can be reached by elevators and by the exterior lifting platform.
​​​​​​​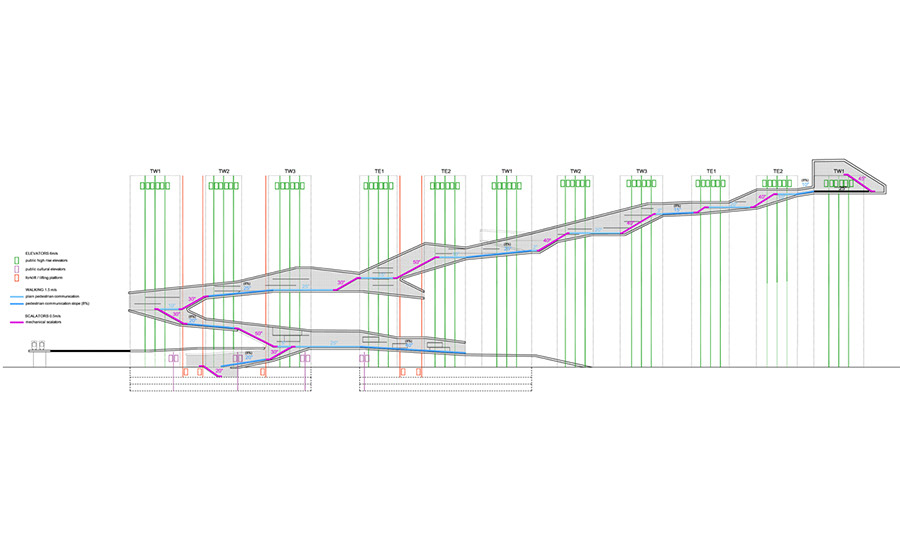 In order to allow and enhance interior future transformation, upload and download big products and furniture from start-up companies, an open forklift / lifting platform of 3x7m is located in one of the exterior sides of the core. For this reason, offices and apartments are built with prefabricated lightweight wooden structures that could be easily assembled and disassembled. A loading dock is located in level B1 and directly connected to forklift. Loading dock is formed by parking space for medium size trucks, manoeuvre area and storage material area close to lifting platform. For this reason level B1 has a 4,5 m. gauge.
Future transformation is synchronized with building life and activities in order to avoid or minimize as much as possible any conflict. In this regard, new construction work in plots in the sky will be developed without affecting close neighbours. Trucks will park in level B1 close to corresponding tower for unloading materials and construction systems. From storage area all material will be transport to plots in the sky, through the lifting platform. Then, construction work will be executed with prefabricated systems and without requiring any amount of water. This system for uploading and downloading is suitable not only for construction work but also for moving products, goods and furniture through the whole Start-up and Culture Industry Complex. ​​​​​​​