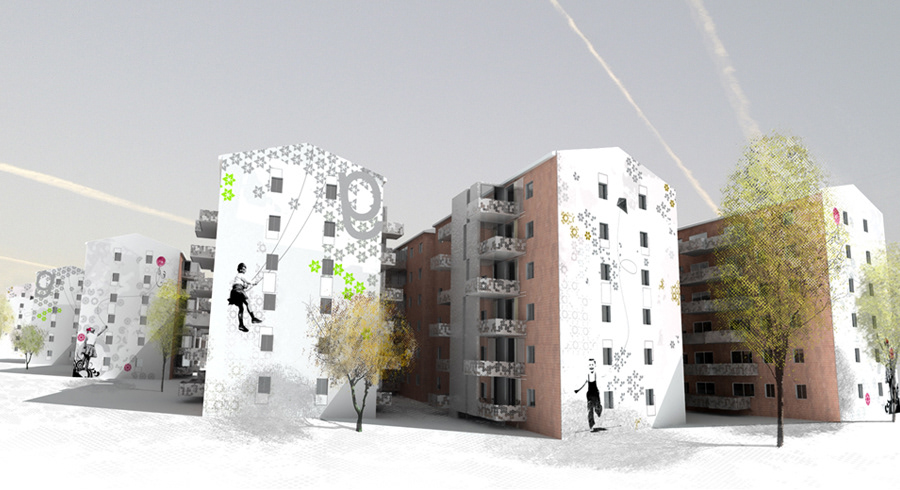 1.REVERSE TIMING- First architecture_after urban planning
The traditional timing of the urban process has beed reversed: first the architecture, and after and the urban planning.
The reverse urban planning proposes the construction of tested architectural prototypes, and after develop the urban planning over these optimized models.
An architecture that is going to be first, out of order, but at the same time, it is going to be the base of the future order.
From this point of view, the architecture is in constant revision, and the architect should manage the information submitted.
2. DIRECT / REPRESENTATIVE DEMOCRACY
The direct democracy is the best way of developing the tested architectural models.
Most of the people has been living more than 40 years in the neighbourhood.
But they have to share a "jointresponsability" over the project. They have many rights but at the sametime
many obligations.
3.IDENTITY_Pride of living in "Las Margaritas"
Cedric Price said: "Architecture is not a matter of solving problems, it is a matter of generating oportunities"
The Margaritas Community Plan is anintegral remodelling:
- Urban and landscape
- Housing
- Education
- Unemployment
- Inequality
The main objetive is to create a new social unity.
Antropology and sociology are fundamental for this purpose.
4. SOCIAL AND MANAGMENT NETWORK_
In the Reverse Urban Planning the network is the main strategy rather than the architecture.
It is a complex process that require the formation of a extended network of all the actors involved in the urban process.
5. FROM THE ROOM TO THE NEIGHBORHOOD_
¿How do you transform a room from aprocess of urban renovation?
or, ¿how can a room condition the process of urban renovation?
The reverse urban planning propose re-project the room, and how this new renovation, will condition the steet, the environmental units, the neighbourhood....
It is a process from the private interior to the public exterior, but always from the point of view of joint responsability.
6. ENVIROMENTAL UNITS AND ENERGYEFFICIENCY_
The environmental units are psicogeographic spaces that create an inner structure of the neighbourhood.
They form a type of cluster, with a certain environmental quality.
7. THE UNFINISHED AND EDUCATIONAL CITY_
The city has never been finished.
It is always in a continuous state of change.
The project consider every state of the construction of the city, like a city itself.
All the steps or phases have the same quality of the wrong called consolidated city.
8.UNDETERMINATE_
The reverse urban planning is undeterminate.
It is aproximate, not precise.
We use tools like probabilities, potential sections, movements areas...
A project that will focus on the futureand his changing condition.